Artificial Intelligence
Video Analytics and AI for Efficient and Error-Free Dumbbell Workouts
Our valued client, a prominent player in the Artificial Intelligence (AI) industry, was passionate about leveraging AI to transform the health and fitness sector. They recognized the potential of AI-driven video analytics in improving workout efficiency and precision. To bring this vision to life, they partnered with Coretus Technologies, a leading AI solutions provider known for its expertise in developing innovative and cutting-edge AI solutions.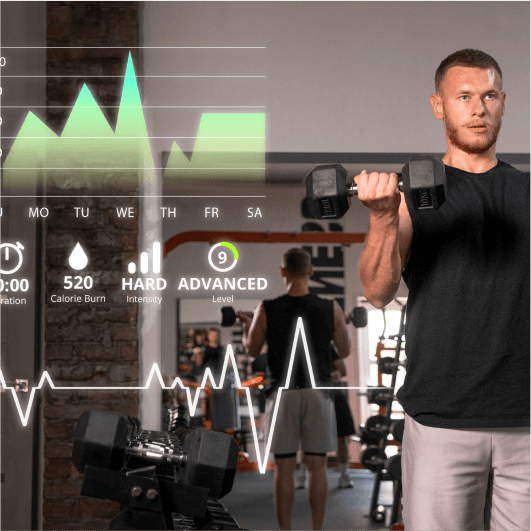 Challenge
The client encountered several challenges in the fitness domain, including:
Lack of Form Precision: Traditional dumbbell workouts often lacked accurate form guidance, leading to suboptimal workout results and increased risk of injuries.
Manual Monitoring Limitations: Personal trainers were unable to monitor every client's form simultaneously, hindering personalized coaching and feedback.
Workout Efficiency: Users struggled to maintain consistent form throughout their workouts, leading to wasted effort and reduced workout effectiveness.
Solution
To address these challenges, Coretus Technologies developed AI-Powered SmartDumbbell, an innovative video analytics and AI-based system for efficient and error-free dumbbell workouts. The key solutions offered were:
Computer Vision Technology: SmartDumbbell utilized advanced computer vision algorithms to analyze users' dumbbell workout forms in real-time.
Form Correction Guidance: The system provided real-time audio and visual feedback, guiding users to maintain proper form throughout their workouts.
Personalized Coaching: SmartDumbbell offered personalized coaching and workout plans tailored to individual users' fitness levels and goals.
Performance Tracking: The system tracked users' workout performance and progress over time, allowing them to set and achieve their fitness milestones.
Result
The implementation of AI-Powered SmartDumbbell resulted in remarkable outcomes for our client:
Enhanced Workout Precision: SmartDumbbell's real-time form analysis and correction guidance ensured users performed their dumbbell exercises with greater accuracy, leading to improved workout results.
Personalized Fitness Coaching: The personalized coaching and tailored workout plans enabled users to achieve their fitness goals effectively.
Reduced Injury Risk: SmartDumbbell's form correction feature helped reduce the risk of injuries associated with improper exercise techniques.
Improved Workout Efficiency: Users experienced increased workout efficiency and effectiveness, maximizing the benefits of their dumbbell workouts.
Conclusion
The successful collaboration between Coretus Technologies and the client led to the development of AI-Powered SmartDumbbell. This cutting-edge solution revolutionized dumbbell workouts, providing users with real-time form guidance, personalized coaching, and enhanced workout precision. The integration of AI in fitness showcased how technology can elevate fitness experiences and promote efficient, error-free workouts. The project exemplifies Coretus Technologies' commitment to harnessing AI's power to improve industries and deliver exceptional solutions to its clients.