Artificial Intelligence
Smarter Project Management System
Our esteemed client, a prominent player in the Artificial Intelligence (AI) industry, recognized the immense potential of infusing AI into project management systems to revolutionize how businesses execute projects. As a company committed to embracing cutting-edge technologies, they sought to create a smarter and more efficient Project Management System. To achieve this vision, they partnered with Coretus Technologies, a renowned AI solutions provider known for its expertise in developing innovative AI-driven solutions.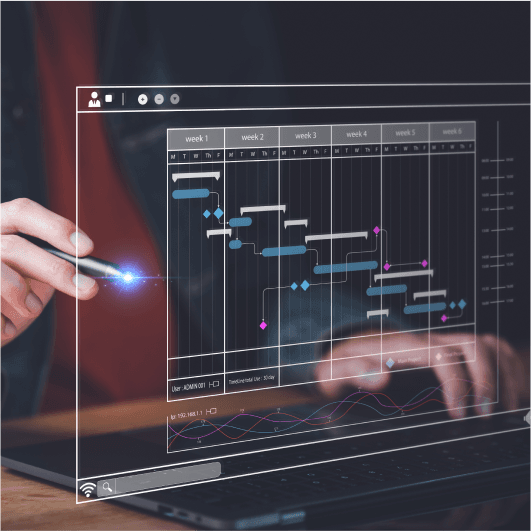 Challenge
The client encountered significant challenges in the project management domain, including:
Limited Insights: Existing project management systems lacked advanced analytics, limiting the client's ability to derive meaningful insights from project data.
Inefficient Resource Allocation: Traditional systems struggled to optimize resource allocation, leading to underutilization or overloading of resources.
Risk Management: The absence of proactive risk identification and mitigation mechanisms hindered the client's ability to address potential threats promptly.
Solution
To address these challenges, Coretus Technologies developed CognitivePM, an AI-powered Project Management System that leveraged the capabilities of AI to make project execution smarter and more effective. The key solutions offered were:
AI-Driven Analytics: CognitivePM integrated advanced AI analytics, enabling the client to gain deeper insights from project data, leading to better decision-making.
Intelligent Resource Allocation: The system utilized AI algorithms to analyze project requirements and allocate resources optimally for improved efficiency.
Risk Prediction and Mitigation: CognitivePM employed AI-based predictive models to identify potential risks early and recommend mitigation strategies.
Automated Task Scheduling: The system implemented AI-driven automated task scheduling, optimizing project timelines and ensuring timely completion.
Natural Language Processing (NLP) Interface: CognitivePM offered a user-friendly NLP interface, simplifying interactions and enabling natural-language-based commands.
Result
The implementation of CognitivePM resulted in significant outcomes for our client:
Enhanced Insights: AI-driven analytics empowered the client with deeper project insights, facilitating more informed and data-driven decision-making.
Efficient Resource Utilization: Intelligent resource allocation led to optimized resource utilization, reducing costs and improving project efficiency.
Proactive Risk Management: AI-based risk prediction enabled the client to identify and address potential risks proactively, minimizing project disruptions.
Streamlined Task Management: The automated task scheduling streamlined project timelines, enhancing project execution and timely delivery.
Enhanced User Experience: The NLP interface improved user interactions, simplifying system use and fostering user adoption.
Conclusion
The successful collaboration between Coretus Technologies and the client culminated in the development of CognitivePM - a trailblazing AI-powered Project Management System. By harnessing the capabilities of AI, the system empowered our client to execute projects smarter, with enhanced efficiency and risk management. The implementation of CognitivePM exemplifies Coretus Technologies' commitment to transforming industries with AI innovation and delivering exceptional value to its clients.