Internet of Things
Smart Manufacturing Process Monitoring with IoT
Our client, a leading company in the Internet of Things (IoT) industry, aimed to revolutionize the manufacturing sector through the integration of IoT technology. They envisioned a Smart Manufacturing Process Monitoring system that would enable real-time monitoring and optimization of production processes. To realize this vision, they partnered with Coretus Technologies, a renowned provider of cutting-edge IoT solutions.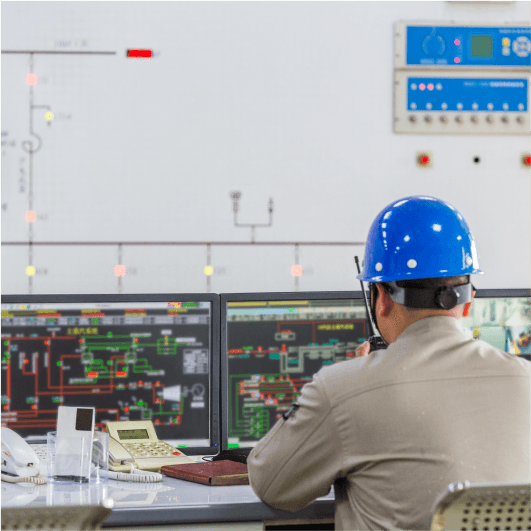 Challenge
In the manufacturing industry, our client faced significant challenges:
Limited Real-Time Visibility: The lack of real-time visibility into production processes made it difficult to identify and address bottlenecks promptly.
Quality Control: Ensuring consistent product quality across different manufacturing stages was a challenge due to manual inspection processes.
Resource Optimization: The inefficient utilization of resources and equipment led to increased production costs and decreased overall efficiency.
Solution
To address these challenges, Coretus Technologies developed IoT-Driven Smart Manufacturing, a comprehensive solution for real-time process monitoring and optimization. The key solutions offered were:
IoT Sensor Integration: Smart Manufacturing integrated IoT sensors into manufacturing equipment to collect real-time data on performance, temperature, and other critical parameters.
Data Analytics and Visualization: The system utilized advanced data analytics and visualization tools to process and present real-time production data in an easily understandable format.
Automated Quality Control: Smart Manufacturing implemented automated quality control mechanisms, using IoT data to identify defective products and trigger alerts for inspection.
Predictive Maintenance: The system leveraged predictive analytics to anticipate equipment failures, enabling proactive maintenance and reducing downtime.
Process Optimization: IoT-Driven Smart Manufacturing enabled data-driven process optimization, enhancing resource allocation and overall production efficiency.
Result
The implementation of IoT-Driven Smart Manufacturing yielded significant results for our client:
Real-Time Monitoring: The system provided real-time visibility into manufacturing processes, allowing prompt identification and resolution of issues.
Enhanced Product Quality: With automated quality control, defective products were detected early, leading to improved overall product quality.
Resource Efficiency: IoT data-driven process optimization improved resource utilization, leading to cost savings and increased production efficiency.
Reduced Downtime: Predictive maintenance reduced unplanned equipment downtime, resulting in enhanced productivity and reduced maintenance costs.
Conclusion
The successful collaboration between Coretus Technologies and our client led to the development of IoT-Driven Smart Manufacturing - a transformative solution for the manufacturing sector. By leveraging IoT technology, the solution addressed critical challenges and enhanced real-time monitoring, product quality, and resource efficiency. IoT-Driven Smart Manufacturing exemplifies Coretus Technologies' commitment to leveraging cutting-edge IoT solutions to transform industries and drive productivity and competitiveness.