Artificial Intelligence
Predictive Analytics for Health & Fitness App
Our client, a prominent player in the Artificial Intelligence (AI) industry, recognized the potential of predictive analytics to transform health and fitness applications. They aimed to develop a cutting-edge solution that would elevate the user experience and empower individuals to achieve their health and fitness goals efficiently. To achieve this vision, they partnered with Coretus Technologies, a leading AI solutions provider known for its expertise in implementing transformative AI technologies.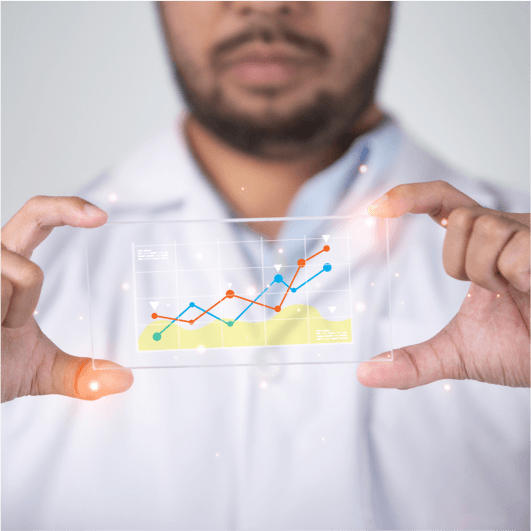 Challenge
The client faced specific challenges in the health and fitness app domain, including:
Personalized Recommendations: Traditional apps lacked the ability to deliver personalized recommendations, limiting user engagement and motivation.
Data Interpretation: The vast amount of user data collected posed challenges in deriving actionable insights and understanding user behavior effectively.
User Retention: Difficulty in retaining users due to the lack of continuous personalized guidance and support in their health and fitness journey.
Solution
To address these challenges, Coretus Technologies spearheaded the implementation of AI-Powered Health & Fitness Apps. The key solutions included:
Predictive Analytics: Advanced predictive analytics algorithms were integrated into the apps to forecast user behavior and recommend personalized fitness routines and dietary plans.
Machine Learning Algorithms: The apps utilized machine learning to continuously learn from user interactions and adapt the recommendations to their evolving preferences and goals.
Data-driven Insights: Coretus Technologies developed a robust data processing pipeline to interpret user data, providing valuable insights into user patterns and behavior.
Real-time Monitoring: The apps enabled real-time tracking of fitness activities, allowing users to monitor their progress and receive instant feedback.
Personalized Coaching: AI-powered virtual coaching provided personalized guidance, keeping users motivated and engaged in their health and fitness journey.
Result
The implementation of AI-Powered Health & Fitness Apps yielded significant results for our client:
Enhanced User Engagement: The personalized recommendations and real-time tracking improved user engagement and motivation, leading to increased app usage.
Improved User Retention: The personalized coaching and continuous adaptation of recommendations improved user retention and loyalty.
Healthier Lifestyle: Users reported improved health and fitness outcomes, with many achieving their fitness goals more effectively.
Competitive Advantage: The client gained a competitive edge in the health and fitness app market by offering an innovative and personalized user experience.
Conclusion
The successful partnership between Coretus Technologies and the client resulted in AI-Enhanced Health & Fitness Apps, which transformed the way individuals approach their health and fitness journeys. By harnessing the power of predictive analytics and AI-driven personalization, the apps empowered users to make informed decisions and stay motivated throughout their fitness journey. The project exemplifies Coretus Technologies' commitment to leveraging AI to enhance user experiences and deliver exceptional value to its clients in the AI and health technology domain.