Artificial Intelligence
Predictive Analytics for E-Commerce Platform
Our esteemed client, a prominent player in the Artificial Intelligence (AI) industry, sought to revolutionize the e-commerce landscape through data-driven decision-making. As a forward-thinking company, they envisioned leveraging predictive analytics to boost sales and optimize their e-commerce platform's performance. To transform their vision into reality, they partnered with Coretus Technologies, a leading AI solutions provider renowned for its expertise in building cutting-edge predictive analytics modules.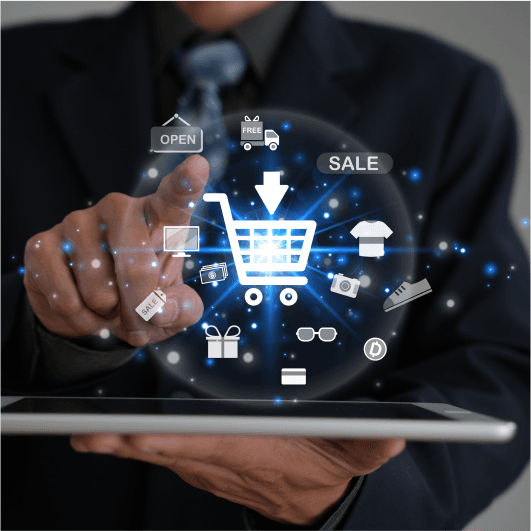 Challenge
The client encountered significant challenges in the e-commerce domain, including:
Lack of Predictive Insights: The absence of predictive analytics hindered the client's ability to anticipate customer behavior and sales trends, leading to missed opportunities for growth.
Inefficient Resource Allocation: Without data-driven projections, the client struggled to allocate resources effectively, resulting in suboptimal inventory management and marketing strategies.
Competing in a Dynamic Market: The rapidly evolving e-commerce landscape demanded proactive strategies to stay ahead, necessitating actionable predictive insights.
Solution
To address these challenges, Coretus Technologies developed AI-Driven SalesProjection, an advanced predictive analytics module tailored for the e-commerce platform. The key solutions offered were:
Machine Learning Algorithms: SalesProjection integrated sophisticated machine learning algorithms to analyze historical sales data, customer behavior, and market trends.
Sales Forecasting: The module generated accurate sales projections, empowering the client to anticipate demand patterns and align inventory accordingly.
Customer Segmentation: SalesProjection employed customer segmentation to identify high-value customers and target personalized marketing efforts for increased engagement.
Dynamic Pricing Optimization: By analyzing market dynamics, competitor pricing, and customer preferences, SalesProjection recommended optimal pricing strategies.
Real-Time Recommendations: The module provided real-time insights, enabling the client to make data-driven decisions swiftly and stay competitive in the market.
Result
The implementation of AI-Driven SalesProjection led to significant outcomes for our client:
Data-Driven Decision-Making: With predictive analytics, the client made informed decisions, optimizing inventory management, and marketing strategies.
Improved Sales Performance: Accurate sales projections and customer segmentation resulted in increased sales and higher customer satisfaction.
Resource Efficiency: Dynamic pricing optimization allowed the client to price products competitively while maximizing profitability.
Competitive Advantage: SalesProjection empowered the client to stay ahead in the dynamic e-commerce market, gaining a competitive edge.
Conclusion
The successful collaboration between Coretus Technologies and the client resulted in the development of AI-Driven SalesProjection. This groundbreaking predictive analytics module revolutionized the e-commerce platform, providing actionable insights to drive growth, optimize resources, and gain a competitive advantage. The project exemplifies Coretus Technologies' commitment to harnessing AI's power to transform industries and deliver exceptional value to its clients.