Artificial Intelligence
ML and NLP Models For Marketing & Advertising
Our esteemed client, a prominent player in the Artificial Intelligence (AI) industry, recognized the potential of AI and Natural Language Processing (NLP) in transforming the marketing and advertising landscape. They aspired to leverage advanced ML and NLP models to revolutionize their marketing strategies, boost customer engagement, and optimize advertising campaigns. To achieve these goals, they collaborated with Coretus Technologies, a leading AI solutions provider known for its expertise in developing innovative AI-driven solutions.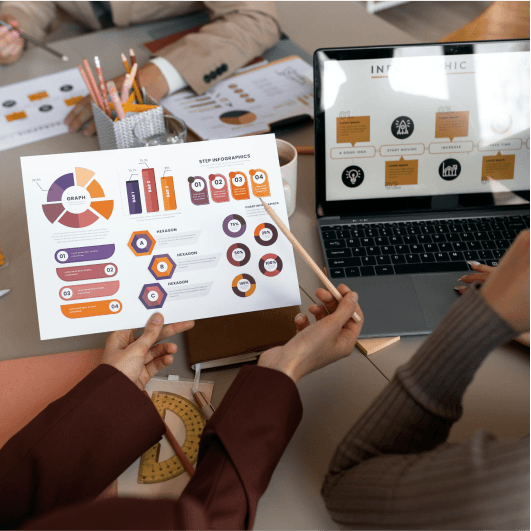 Challenge
The client encountered significant challenges in the marketing and advertising domain, including:
Ineffective Marketing Campaigns: Traditional marketing campaigns lacked data-driven insights, leading to suboptimal strategies and limited success.
Unstructured Data Analysis: The client struggled to analyze and extract valuable insights from unstructured data sources like customer feedback, social media posts, and online reviews.
Personalization Bottleneck: The absence of personalized messaging hindered customer engagement, resulting in reduced conversion rates and customer loyalty.
Solution
To address these challenges, Coretus Technologies implemented AI-Driven Marketing Intelligence, a powerful framework powered by ML and NLP models. The key solutions offered were:
ML-Powered Customer Segmentation: Advanced ML algorithms were employed to segment customers based on their preferences, behaviors, and buying patterns, enabling targeted marketing strategies.
NLP-Driven Sentiment Analysis: NLP models were integrated to analyze customer feedback and sentiment from various sources, providing valuable insights for campaign optimization.
Predictive Analytics: AI-driven predictive analytics was utilized to forecast customer behavior and campaign performance, guiding data-driven decision-making.
Personalized Content Generation: NLP models generated personalized content for various marketing channels, improving engagement and customer experience.
Real-Time Campaign Optimization: AI continuously analyzed campaign performance, allowing real-time adjustments for better results.
Result
The implementation of AI-Driven Marketing Intelligence yielded significant results for our client:
Improved Marketing Effectiveness: ML-powered customer segmentation and predictive analytics led to targeted and data-driven marketing strategies, enhancing campaign effectiveness.
Enhanced Customer Engagement: NLP-driven sentiment analysis and personalized content generation increased customer engagement and satisfaction.
Data-Driven Decision-Making: AI-driven insights and real-time campaign optimization empowered data-driven decision-making, resulting in improved ROI.
Competitive Advantage: The client gained a competitive edge in the AI and marketing industry, standing out with personalized and effective advertising campaigns.
Conclusion
The successful collaboration between Coretus Technologies and the client resulted in the development of AI-Driven Marketing Intelligence. This transformative project harnessed ML and NLP models to revolutionize marketing strategies, optimize advertising campaigns, and enhance customer engagement. With data-driven insights and personalized approaches, AI-Driven Marketing Intelligence empowered our client to thrive in the competitive AI landscape, setting new standards in marketing and advertising effectiveness. The project exemplifies Coretus Technologies' commitment to leveraging AI for driving innovation and delivering exceptional value to its clients in the ever-evolving AI industry.