Internet of Things
IoT-Enabled Smart Home Automation System
Our client, a key player in the Internet of Things (IoT) industry, envisioned creating a cutting-edge smart home automation system to enhance the lives of homeowners. They aimed to deliver an innovative solution that would empower users to control and automate various aspects of their homes for convenience, security, and energy efficiency. To transform this vision into reality, they partnered with Coretus Technologies, a leading provider of IoT solutions.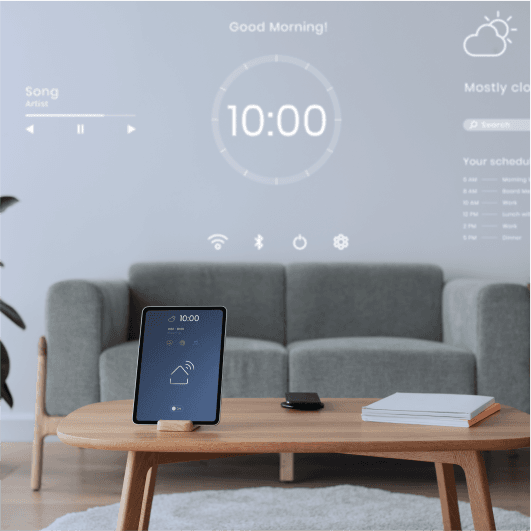 Challenge
In the realm of smart home automation, our client encountered significant challenges:
Interoperability: Integrating diverse IoT devices and platforms seamlessly posed challenges in achieving a unified and user-friendly experience.
Data Security: Ensuring the utmost security and privacy of user data within the interconnected smart home ecosystem was of paramount importance.
User Experience: Creating an intuitive and user-friendly interface for controlling and managing multiple smart devices was crucial to ensuring user adoption.
Solution
To address these challenges, Coretus Technologies developed SmartLiving IoT, a comprehensive and secure smart home automation system. The key solutions offered were:
Unified Ecosystem: SmartLiving IoT established a standardized framework to enable seamless communication and interoperability among different IoT devices and protocols.
Secure Communication: The system employed robust encryption and authentication mechanisms to safeguard user data and ensure secure communication between devices.
Smart Automation Rules: SmartLiving IoT introduced customizable automation rules, allowing users to define personalized scenarios for different devices and actions.
Voice and Mobile Control: The system integrated voice assistants and mobile applications, providing convenient control and access to the smart home ecosystem.
Energy Efficiency: SmartLiving IoT enabled intelligent energy management, optimizing energy consumption based on user preferences and occupancy patterns.
Result
The implementation of SmartLiving IoT delivered remarkable outcomes for our client:
Enhanced Home Automation: The unified ecosystem and smart automation rules simplified the control and management of various IoT devices, enhancing user convenience and experience.
Data Privacy Assurance: The robust security measures instilled user confidence, ensuring the privacy of their data within the smart home ecosystem.
Energy Savings: Smart energy management led to significant energy savings, reducing utility costs for homeowners and promoting sustainable living.
Competitive Edge: Our client gained a competitive advantage in the IoT industry by offering a comprehensive and secure smart home automation solution.
Conclusion
The successful collaboration between Coretus Technologies and our client resulted in the development of SmartLiving IoT - an empowering smart home automation system. This transformative solution addressed key challenges in IoT integration, data security, and user experience, delivering a seamless and secure smart living experience. SmartLiving IoT exemplifies Coretus Technologies' commitment to harnessing IoT's potential to enrich lives, promote sustainability, and drive innovation in the ever-evolving technology landscape.