Internet of Things
IoT-Based Health Monitoring System
Our client, a leading player in the Internet of Things (IoT) industry, recognized the potential of IoT technology to revolutionize the healthcare sector. They sought to create an innovative IoT-Based Health Monitoring System that would enable remote monitoring of patient's health and improve healthcare outcomes. To realize this vision, they partnered with Coretus Technologies, a renowned provider of cutting-edge IoT solutions.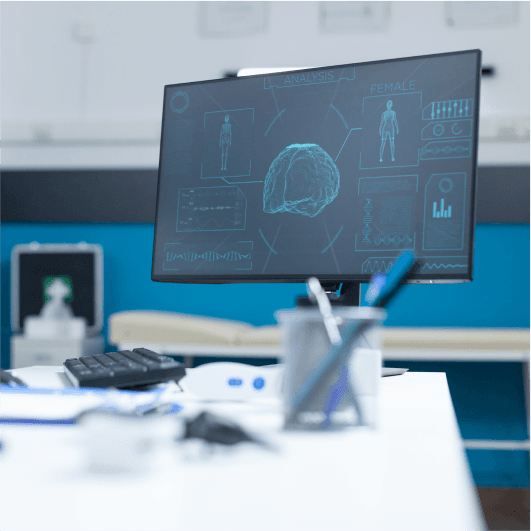 Challenge
In the healthcare industry, our client faced significant challenges:
Limited Remote Monitoring: Traditional healthcare lacked effective systems for remote health monitoring, hindering the ability to monitor patients outside of healthcare facilities.
Data Privacy and Security: Ensuring the privacy and security of sensitive patient health data was a major concern in the development of an IoT health monitoring system.
Real-Time Data Transmission: Establishing a reliable and real-time data transmission mechanism was essential for prompt healthcare interventions.
Solution
To address these challenges, Coretus Technologies developed HealthIoT Monitor, an advanced IoT-Based Health Monitoring System. The key solutions offered were:
Remote Sensing Devices: HealthIoT Monitor utilized IoT sensors and devices to monitor vital signs, including heart rate, blood pressure, and body temperature, among others.
Secure Data Transmission: The system implemented robust encryption and authentication protocols to ensure the privacy and security of patient health data during transmission.
Real-Time Analytics: HealthIoT Monitor employed real-time data analytics to detect anomalies and provide immediate alerts for critical health conditions.
Data Visualization and Alerts: The system presented health data in an easily understandable format and issued alerts to healthcare providers and patients when necessary.
Cloud Integration: HealthIoT Monitor integrated with secure cloud infrastructure to store and manage vast amounts of patient health data.
Result
The implementation of the HealthIoT Monitor yielded significant results for our client:
Enhanced Patient Care: The remote health monitoring capabilities of HealthIoT Monitor enabled proactive healthcare interventions, leading to improved patient outcomes.
Cost-Efficiency: By reducing the need for frequent hospital visits, HealthIoT Monitor brought down healthcare costs for patients and providers alike.
Data-Driven Insights: Real-time data analytics provided valuable insights into patient health trends, enabling evidence-based decision-making and personalized care plans.
Secure Health Data Management: HealthIoT Monitor's robust security measures instilled confidence in patients and healthcare providers, ensuring the protection of sensitive health data.
Conclusion
The successful collaboration between Coretus Technologies and our client resulted in the development of HealthIoT Monitor - an innovative IoT-Based Health Monitoring System. The solution empowered remote health monitoring, driving improved patient care, cost-efficiency, and data-driven insights. HealthIoT Monitor exemplifies Coretus Technologies' commitment to leveraging IoT technology to transform the healthcare industry and enhance the quality of patient care in the digital age.