Internet of Things
Intelligent Building Management using IoT
Our client, a leading player in the Internet of Things (IoT) industry, aimed to revolutionize building management through the integration of intelligent IoT technologies. They sought to create a smart and efficient system that would enhance the management, energy efficiency, and overall performance of buildings. To realize this vision, they partnered with Coretus Technologies, a renowned provider of innovative IoT solutions.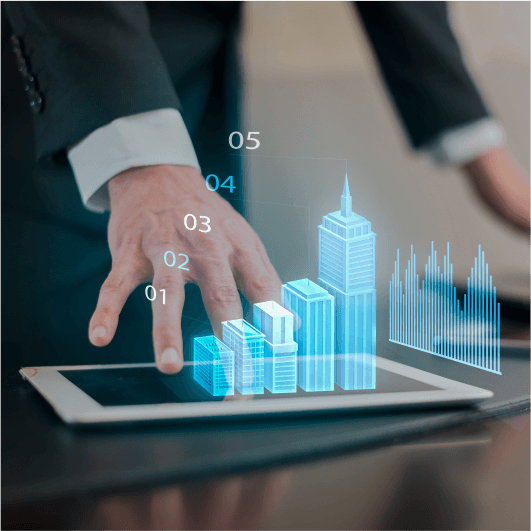 Challenge
In the building management domain, our client faced significant challenges:
Manual Processes: Traditional building management relied heavily on manual processes, leading to inefficiencies and higher operational costs.
Lack of Real-Time Data: The absence of real-time data on building conditions and energy consumption hindered proactive decision-making and optimization.
Energy Waste: The inability to monitor and control energy usage resulted in wastage and higher utility expenses.
Solution
To address these challenges, Coretus Technologies developed SmartBuild IoT, an intelligent building management system powered by IoT. The key solutions offered were:
IoT Sensors and Devices: SmartBuild IoT deployed a network of IoT sensors and devices throughout the building to collect real-time data on temperature, humidity, occupancy, energy consumption, and more.
Data Analytics and Machine Learning: The system leveraged data analytics and machine learning algorithms to analyze the collected data and gain valuable insights for optimizing building operations.
Automated Systems: SmartBuild IoT integrated automation systems to control and optimize lighting, HVAC, and other building components based on real-time conditions and occupancy.
Energy Management: The system implemented smart energy management techniques to identify energy waste, optimize energy consumption, and reduce utility costs.
Remote Monitoring and Control: SmartBuild IoT provided remote monitoring and control capabilities, allowing facility managers to manage buildings efficiently from a centralized platform.
Result
The implementation of SmartBuild IoT led to significant results for our client:
Enhanced Building Efficiency: SmartBuild IoT optimized building operations, leading to increased energy efficiency, reduced operational costs, and improved sustainability.
Real-Time Insights: The availability of real-time data and analytics empowered facility managers to make data-driven decisions for better building performance.
Proactive Maintenance: SmartBuild IoT enabled predictive maintenance, identifying potential issues before they become critical, leading to reduced downtime and maintenance costs.
Energy Savings: By optimizing energy consumption and reducing waste, SmartBuild IoT resulted in substantial energy savings for our client.
Conclusion
The successful collaboration between Coretus Technologies and our client resulted in the development of SmartBuild IoT - an intelligent building management system leveraging IoT technologies. The solution transformed building operations, optimizing energy usage, enhancing efficiency, and enabling proactive decision-making. SmartBuild IoT exemplifies Coretus Technologies' commitment to leveraging IoT innovations to create a smarter, more sustainable future.