Artificial Intelligence
Fitness App with Deep Neural Networks
Our esteemed client, a leading player in the Artificial Intelligence (AI) industry, aimed to elevate the fitness app market by incorporating state-of-the-art Deep Neural Networks (DNN). They recognized the potential of AI to revolutionize the fitness industry and sought to scale up their fitness app with cutting-edge technology. To achieve this ambitious goal, they partnered with Coretus Technologies, a renowned AI solutions provider known for its expertise in developing innovative AI-driven solutions.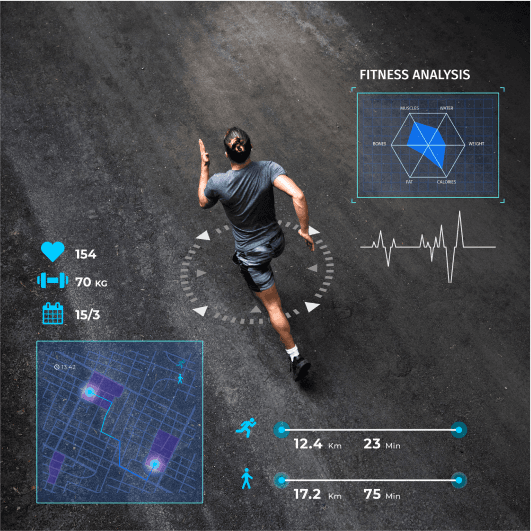 Challenge
The client faced significant challenges in their fitness app, including:
Limited Personalization: The existing fitness app lacked personalized experiences, making it difficult to cater to individual user goals and preferences.
Insufficient User Engagement: The app struggled to keep users engaged over the long term, leading to high churn rates and decreased user satisfaction.
Fitness Data Analysis: The sheer volume and complexity of fitness data required robust and efficient methods to extract meaningful insights for personalized recommendations.
Solution
To overcome these challenges, Coretus Technologies embarked on the mission to create an AI-Boosted Fitness Experience, enhancing the fitness app with Deep Neural Networks. The key solutions offered were:
Personalized Workout Plans: The AI-powered system analyzed user data to create personalized workout plans based on individual fitness levels, preferences, and goals.
Intelligent Progress Tracking: Deep Neural Networks were employed to monitor and analyze user progress accurately, providing timely feedback and adjustments.
Recommendation Engine: The system utilized AI algorithms to suggest relevant workouts, classes, and nutrition plans tailored to each user's needs.
Real-Time Performance Analysis: DNN enabled real-time analysis of workout performance, offering insights to users and trainers for optimizing results.
Result
The implementation of the AI-Boosted Fitness Experience led to remarkable results for our client:
Enhanced User Engagement: With personalized workout plans and tailored recommendations, the fitness app witnessed increased user engagement and retention.
Improved Fitness Outcomes: Users achieved better fitness results through the app's AI-powered insights and intelligent progress tracking.
Competitive Advantage: The client gained a competitive edge in the fitness app market by offering an AI-driven, personalized fitness experience.
Greater User Satisfaction: The AI-boosted app garnered positive user feedback, leading to higher customer satisfaction and loyalty.
Conclusion
The successful collaboration between Coretus Technologies and the client resulted in the creation of the AI-Boosted Fitness Experience. This pioneering solution transformed the fitness app landscape, elevating it with advanced Deep Neural Networks and personalization capabilities. The project exemplifies Coretus Technologies' commitment to leveraging AI to enhance industries, making fitness more engaging and effective in the digital era. The AI-Boosted Fitness Experience empowered our client to offer unparalleled value to fitness enthusiasts, leading the way towards a healthier and fitter future.