Artificial Intelligence
Deep Learning-Based Anti-Counterfeiting Solution
Our esteemed client, a prominent company in the Artificial Intelligence (AI) industry, recognized the pressing need for an innovative solution to combat counterfeiting in various sectors. To address this challenge and protect consumers from fraudulent products, they partnered with Coretus Technologies, a leading AI solutions provider known for its expertise in deep learning and cutting-edge technology.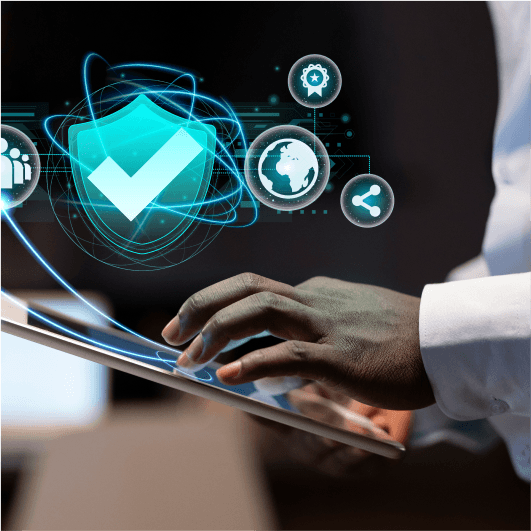 Challenge
The client faced critical challenges related to counterfeiting in the market, including:
The proliferation of Counterfeit Products: The market was inundated with counterfeit goods, leading to financial losses and reputation damage for both businesses and consumers.
Complex Counterfeiting Techniques: Counterfeiters employed sophisticated techniques to mimic genuine products, making it difficult to identify counterfeit items visually.
Time-Consuming Authentication Process: Traditional authentication methods were time-consuming, hampering swift decision-making and leading to delayed actions against counterfeiting.
Solution
To tackle these challenges head-on, Coretus Technologies devised VeriGuard, an advanced Deep Learning-Based Anti-Counterfeiting Solution. The key solutions offered were:
Deep Learning Algorithms: VeriGuard harnessed state-of-the-art deep learning algorithms to detect even subtle differences between genuine and counterfeit products.
Image Recognition Technology: The system employed image recognition technology to identify and verify product authenticity through images or barcode scanning.
Database Integration: VeriGuard integrated with comprehensive databases to validate product information and cross-reference against known counterfeit records.
Real-Time Authentication: The solution provided real-time authentication, enabling swift and decisive actions against counterfeit items in the market.
User-Friendly Interface: VeriGuard was designed with an intuitive interface for seamless integration into the supply chain and consumer verification processes.
Result
The implementation of VeriGuard yielded significant results for our client:
Enhanced Consumer Trust: VeriGuard's robust anti-counterfeiting measures bolstered consumer confidence in genuine products, leading to increased trust in the market.
Effective Counterfeit Detection: The advanced deep learning algorithms accurately identified counterfeit items, enabling prompt actions against illicit goods.
Streamlined Supply Chain: VeriGuard's real-time authentication streamlined the supply chain, reducing delays and ensuring only genuine products reached consumers.
Brand Protection: The client's brand reputation improved as VeriGuard safeguarded its products and consumers from counterfeiters.
Conclusion
The successful collaboration between Coretus Technologies and the client resulted in the creation of VeriGuard - an AI-Powered Anti-Counterfeiting Solution. This cutting-edge technology played a crucial role in combating counterfeiting, protecting consumers, and safeguarding brand reputation. VeriGuard exemplified Coretus Technologies' commitment to utilizing AI for societal betterment, securing the integrity of products, and fortifying the market against counterfeit threats.