Artificial Intelligence
Customer Experience with Sentiment Analytics
Our esteemed client, a pioneering company in the Artificial Intelligence (AI) industry, recognized the significance of understanding customer experiences to drive business growth. They aspired to harness the power of AI to gain valuable insights into customer sentiments and experiences. To achieve this objective, they partnered with Coretus Technologies, a renowned AI solutions provider with a proven track record of developing innovative AI-driven solutions.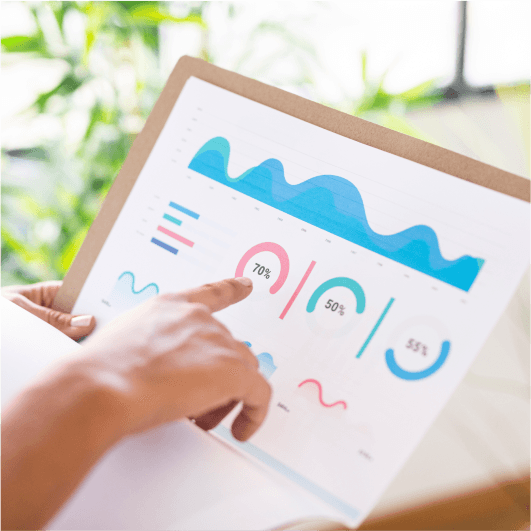 Challenge
The client encountered critical challenges in comprehending customer experiences, which included:
Unstructured Data Analysis: The diverse and unstructured data from customer feedback, reviews, and interactions made it difficult to extract actionable insights.
Real-Time Sentiment Analysis: Manual analysis of customer sentiments was labor-intensive and time-consuming, hindering timely decision-making.
Personalization Complexity: The client struggled to personalize interactions and improve experiences due to a limited understanding of individual customer sentiments.
Solution
To overcome these challenges, Coretus Technologies introduced SentimentSense, an AI-driven Customer Experience Insights platform. The key solutions offered were:
Natural Language Processing (NLP): SentimentSense utilized advanced NLP algorithms to analyze unstructured customer data, extracting sentiments and emotions accurately.
Real-Time Sentiment Analysis: The platform employed real-time sentiment analysis capabilities, enabling immediate assessment of customer feedback and interactions.
Customer Segmentation: SentimentSense implemented AI-powered customer segmentation to group customers based on sentiments, facilitating personalized responses.
Predictive Analytics: The platform utilized predictive analytics to forecast customer behavior, empowering proactive customer experience improvements.
Actionable Insights Dashboard: SentimentSense provided an intuitive dashboard with actionable insights, enabling data-driven decision-making for enhanced customer experiences.
Result
The implementation of SentimentSense yielded impressive outcomes for our client:
Enhanced Customer Understanding: SentimentSense provided in-depth insights into customer sentiments, enabling a deeper understanding of their needs and preferences.
Real-Time Responsiveness: The real-time sentiment analysis capability empowered the client to respond promptly to customer concerns, driving customer satisfaction.
Personalized Interactions: Customer segmentation and predictive analytics enabled personalized interactions, enhancing customer experiences and loyalty.
Business Growth: The data-driven approach to customer experience improvements led to increased customer retention and acquisition, fostering business growth.
Conclusion
The collaboration between Coretus Technologies and the client culminated in the creation of SentimentSense - a game-changing AI-Driven Customer Experience Insights platform. By unraveling customer sentiments and feedback, SentimentSense empowered our client to personalize interactions, proactively respond to customer needs, and optimize their overall customer experience. The project epitomizes Coretus Technologies' commitment to leveraging AI to drive impactful solutions, transforming industries, and delivering value to our clients in the dynamic world of Artificial Intelligence.