Artificial Intelligence
Business Intelligence Solution for Retail Platform
Our valued client, a prominent player in the Artificial Intelligence (AI) industry, sought to enhance the retail platform's capabilities with data-driven decision-making. As part of their mission to revolutionize the retail industry, they partnered with Coretus Technologies, a leading AI solutions provider known for its expertise in developing innovative business intelligence solutions.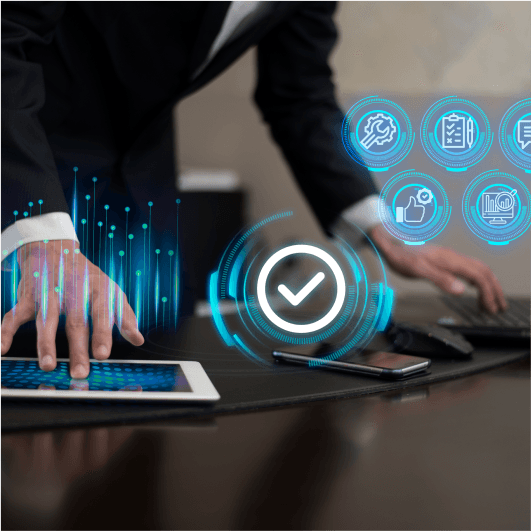 Challenge
The client faced critical challenges in their retail platform's decision-making process, including:
Lack of Actionable Insights: The absence of data-driven insights hindered strategic decision-making, leading to suboptimal business outcomes.
Data Overload: The vast volume and complexity of retail data made it challenging to extract valuable insights for informed decision-making.
Inefficient Analytics: Traditional analytics tools failed to provide real-time and predictive analytics, limiting the platform's ability to respond proactively to market trends.
Solution
To address these challenges, Coretus Technologies developed AI-Powered Retail Insights, an advanced business intelligence solution for the retail platform. The key solutions offered were:
Machine Learning Analytics: AI algorithms analyzed retail data to identify patterns, trends, and correlations, enabling data-driven decision-making.
Real-Time Data Processing: The system provided real-time data processing and analytics, empowering proactive responses to changing market dynamics.
Predictive Analytics: AI-powered predictive models forecasted future trends and demand, assisting in inventory management and marketing strategies.
Retail Performance Dashboards: Interactive dashboards offered visual representations of key performance indicators, making insights easily accessible.
Customizable Reports: AI-Powered Retail Insights generated customizable reports, delivering granular insights tailored to specific business needs.
Result
The implementation of AI-Powered Retail Insights resulted in remarkable outcomes for the client:
Data-Driven Decisions: The retail platform now made informed decisions based on actionable insights, improving business outcomes.
Real-Time Responsiveness: Real-time data processing and predictive analytics enabled the platform to proactively respond to market trends.
Enhanced Efficiency: AI-driven analytics and customizable reports streamlined data analysis, saving time and effort for retail teams.
Competitive Advantage: AI-Powered Retail Insights provided a competitive edge by leveraging data intelligence for improved customer experiences.
Conclusion
The successful collaboration between Coretus Technologies and the client led to the development of AI-Powered Retail Insights, a game-changing business intelligence solution for the retail platform. This innovative solution empowered the client to overcome data challenges, make data-driven decisions, and stay ahead in the competitive retail industry. The project showcases Coretus Technologies' dedication to leveraging AI for intelligent solutions, transforming industries, and delivering exceptional value to its clients.