Blockchain
Traceability System for Food Industry
Our client, a prominent player in the Blockchain industry, recognized the potential of blockchain technology to revolutionize traceability in the food industry. They aimed to create a transparent and efficient system that would enable end-to-end traceability of food products, ensuring safety and building trust with consumers. To realize this vision, they partnered with Coretus Technologies, a leading provider of cutting-edge blockchain solutions.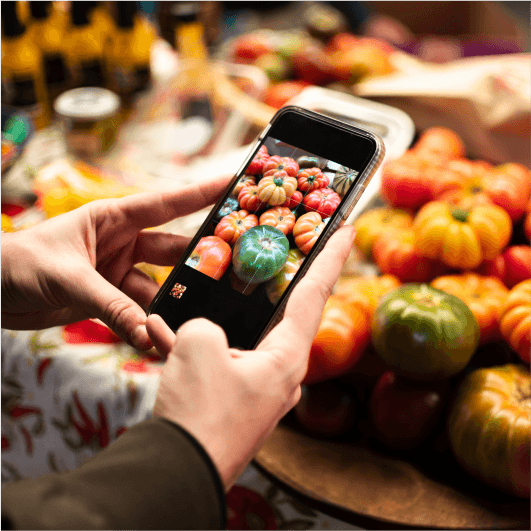 Challenge
In the food industry, our client faced significant challenges:
Traceability Gaps: The lack of a comprehensive traceability system made it difficult to track food products' journey from farm to fork, leading to potential food safety risks.
Data Integrity and Security: Ensuring the integrity and security of data across the supply chain was a challenge due to multiple stakeholders and manual record-keeping.
Consumer Trust: Consumers demanded more information about the origins and quality of their food, and the existing systems struggled to meet this demand effectively.
Solution
To address these challenges, Coretus Technologies developed FoodTrace Blockchain, a secure and transparent traceability system built on blockchain technology. The key solutions offered were:
Immutable Data Ledger: FoodTrace Blockchain implemented a decentralized ledger to record all transactions and events along the food supply chain, ensuring data integrity and transparency.
Smart Contracts: Smart contracts were deployed to automate and enforce rules for data sharing, ensuring that information was accessible only to authorized participants.
Real-Time Tracking: The system integrated IoT devices and sensors to track food products in real-time, providing accurate and up-to-date information on their location and condition.
Consumer-Facing Interface: A user-friendly interface allowed consumers to access detailed information about the food they purchased, fostering trust and transparency.
Compliance and Auditing: FoodTrace Blockchain enabled easy compliance with regulatory requirements and facilitated auditing processes with transparent and accessible records.
Result
The implementation of FoodTrace Blockchain yielded significant results for our client:
Enhanced Food Safety: With end-to-end traceability, the system reduced the risk of foodborne illnesses by quickly identifying the sources of contamination and facilitating targeted recalls.
Supply Chain Efficiency: The real-time tracking capabilities streamlined supply chain operations, reducing delays and ensuring timely delivery of food products.
Consumer Trust and Loyalty: The transparent and trustworthy traceability system built consumer confidence, resulting in increased trust and loyalty towards food brands using FoodTrace Blockchain.
Industry Reputation: Our client gained recognition as a leader in food traceability and blockchain technology, positioning them as a pioneer in the industry.
Conclusion
The successful collaboration between Coretus Technologies and our client resulted in the development of FoodTrace Blockchain - a transformative traceability system for the food industry. Leveraging the power of blockchain, the solution addressed key challenges, enhancing food safety, supply chain efficiency, and consumer trust. FoodTrace Blockchain exemplifies Coretus Technologies' commitment to leveraging cutting-edge technologies to transform industries and build a better, safer future.