Blockchain
Blockchain-Based Loyalty Program Management System
Our esteemed client, a prominent player in the blockchain industry, sought to leverage the transformative power of blockchain technology to revolutionize loyalty program management. With a commitment to innovation and efficiency, they envisioned a cutting-edge solution that could redefine how loyalty programs are administered and experienced. To turn this vision into reality, they partnered with Coretus Technologies, a renowned blockchain solutions provider with a track record of developing groundbreaking blockchain-based applications.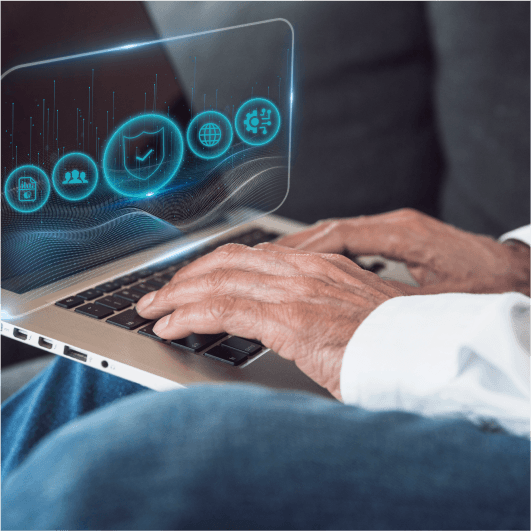 Challenge
In the loyalty program management domain, our client faced several challenges:
Fragmented Programs: Traditional loyalty programs were often fragmented across multiple businesses, leading to limited redemption options and customer frustration.
Data Security: Centralized loyalty program databases were susceptible to data breaches and fraudulent activities, compromising customer trust.
Limited Scalability: Existing systems struggled to accommodate growing user bases, leading to performance issues and slow transaction processing.
Solution
To overcome these challenges, Coretus Technologies developed LoyaltyChain, a state-of-the-art Blockchain-Powered Loyalty Program Management System. The key solutions offered were:
Decentralized Network: LoyaltyChain leveraged the blockchain's decentralized architecture, ensuring a transparent and tamper-resistant ledger of loyalty transactions.
Interoperability: The system facilitated cross-business interoperability, allowing customers to accumulate and redeem loyalty points seamlessly across participating partners.
Smart Contracts: LoyaltyChain incorporated smart contracts to automate program rules and rewards distribution, enhancing efficiency and reducing administrative overhead.
Immutable Records: Blockchain's immutability safeguarded loyalty program data, ensuring its integrity and protecting against fraudulent activities.
Scalable Infrastructure: The use of blockchain technology provided a scalable and high-performance infrastructure, capable of handling increased user demand.
Result
The implementation of LoyaltyChain led to remarkable outcomes for our client:
Enhanced Customer Engagement: The interoperability and streamlined experience of LoyaltyChain improved customer engagement, boosting loyalty program participation.
Data Security: Blockchain's inherent security features protected loyalty program data, instilling customer confidence and trust.
Cost Efficiency: The automation of loyalty program rules through smart contracts reduced administrative costs, enhancing program viability for businesses.
Scalability: LoyaltyChain's blockchain infrastructure ensured smooth scalability, accommodating a growing user base without compromising performance.
Conclusion
The successful collaboration between Coretus Technologies and the client resulted in the development of LoyaltyChain - a groundbreaking Blockchain-Powered Loyalty Program Management System. This innovative solution revolutionized loyalty program management, offering seamless interoperability, enhanced data security, and cost-effective administration. By leveraging blockchain technology, LoyaltyChain empowered our client to thrive in the competitive landscape of loyalty programs, driving customer engagement and delivering exceptional value to businesses and consumers alike. The project exemplifies Coretus Technologies' commitment to pushing the boundaries of blockchain technology and delivering transformative solutions to its clients in the blockchain industry.